Real estate boss optimistic about commercial property in 2018
* Retailers warn rates rises for commercial properties will hurt city
"Unlike previous cycles, there is now a meaningful depth of foreign capital mandated for New Zealand investment," McGregor said.
Of the $1.7b invested by foreign investors last year, $967m came from Asian investors, $408m from Australian investors, $265m came from American investors, $31m from European investors, and $85 from other international investors.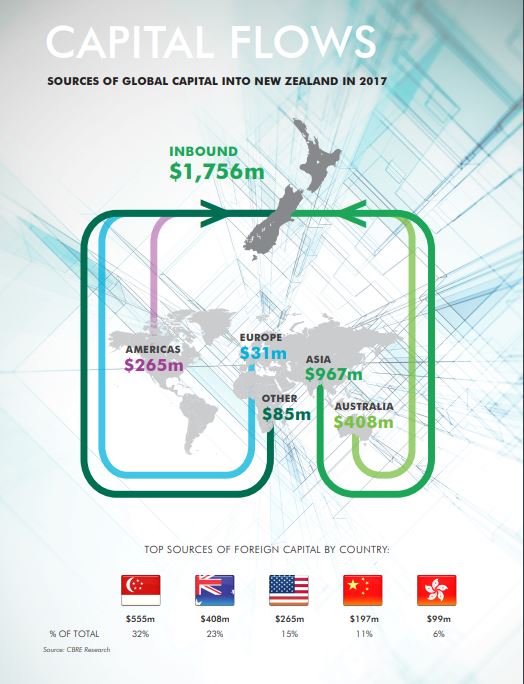 CBRE Research
This, coupled with sales to New Zealand investors, pushed commercial property sales for 2017 to $4b for the fourth year in a row.
Office buildings made up close to half of the 2017 transactions, with the balance being shared between retail, land, and industrial.
"This level of activity reflects the competitive nature of alternative offshore markets, New Zealand's stable economy, [and] strong property market fundamentals," he said.
The biggest winners in the market were the local owners who had made the decision to sell, he said.
McGregor expected the trend of foreign investment to continue, he said.
In the latest CBRE Asia Pacific investor intentions survey, 92 per cent of respondents indicated their investment activity this year will be the same or greater compared to 2017.
The same respondents indicated they wanted to move away from preferred markets of Shanghai, Sydney and Tokyo.
LAWRENCE SMITH/STUFF
CBRE executive chairman Brent McGregor says he is expecting interest from offshore investors to continue this year.
Total sales of New Zealand commercial property between 2014 and 2017 was $18.4b.
The biggest year of sales was in 2014, when almost $3.5b worth of commercial properties changed hands.
 – Stuff
Saved|Saved StoriesSaved|Saved Stories
Save|Saved StoriesSave|Saved Stories